Silverstone Optomap Retinal Imaging
Optos introduced ultra-widefeld (UWF) retinal imaging to enable eyecare professionals to discover, diagnose, document, and treat ocular pathology that may first present in the periphery - pathology that may go undetected using traditional examination techniques and equipment.
In December of 2022, Dr. Gary Polan Optometry became one of the first practices to acquire Silverstone OCT, the only ultra-widefield retinal imaging device with integrated swept source OCT. We are excited to offer our patients this new alternative to eye dilation.
Silverstone offers the following benefits:
Non-invasive, low-intensity, fast, painless, and comfortable
Gives doctors an unprecedented single capture 200° retinal image (80% view of the retina)
Enables optomap guided OCT scanning across the retina and into the far periphery
Facilitates early protection from vision impairment or blindness
Image capture takes less than 1/2 a second and can be viewed immediately by you and your doctor
Recommended as an integral first step in your annual visit
X130 Wavefront Diagnostic | Visionix: The Vision of the Future
Anterior and Posterior Corneal Tomography|The VX130 offers a complete analysis of the anterior and posterior surface of the corneal, making it ideal for keratoconus and Ectasia screening and monitoring.
Powermap® Shack-Hartmann Wavefront Technology |The unique Powermap® sensor analyzes wavefront distortions at the pupil exit after crossing optics. With over 1500 measurement points, this allows for a complete view of both low and high order aberrations and enables measurement of pupil diameters as small as 2mm.
Retro-Illumination|Using infrared retro-illumination, the VX130 provides a detailed view of the eye, which helps identify cataracts, vitreous opacity, scars, and other serious eye problems.
Multi-Diagnostic Instrument| By combining a Wavefront Aberrometer, Pachymeter, Corneal Topographer, Autorefractor, Keratometer, and Non-Contact Tonometer combined with Anterior Chamber Analysis into one unit we are able to make pre-testing more efficient than ever before.
Fully-Automatic 3D Alignment, Tracking, and Focusing|The VX130 is completely automated, requiring very little input from the operator. After the measurement process begins, the unit will align, track, focus, and automatically take measurements with high accuracy, reliability, and speed.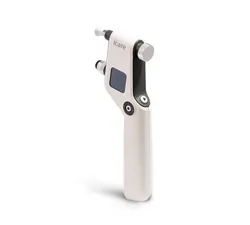 Icare ic100 Tonometer
Uses a patented rebound measuring principle that requires NO drops and NO air puffs
Measures intraocular pressure
A light-weight probe makes momentary contact with the cornea
Icare's proprietary algorithm and state-of-the-art software allows the probe to evaluate deceleration, contact time, and other motion parameters when it touches the cornea
Right Eye | iMeasure More. Measure Faster
Right Eye is the world's first commercialized eye-tracking solution for general healthcare and wellness.
In mere moments, we can now identify issues with eye movement skills that impact an active life including:
Eye Alignment | Object Tracking | Depth Perception | Gross Visual Motor | Eye Teaming | Dynamic Visual Acuity | Object Tracking | Visual Perception | Visual Integration
RightEye's objective, quantifiable results are presented in easy-to-read EyeQ reports. Clearly organized with graphics and charts these objective assessments translate hundreds of collected metrics into actionable opportunities for improvement.
Vivid Vision | Treatment of Amblyopia, Strabismus, and CI
Adjunct treatment for amblyopia, strabismus, and vergence disorders
Designed for all ages - children and adults
Use at home or in a clinic under doctor supervision
Interactive and exciting vision exercises and assessments
For when other binocular vision treatments don't wor